Autumn is a season that is able to convey several feelings, such as melancholy and romance. It marks the end of summer with the days getting shorter and anticipates winter with nature exploding in all its beauty. Landscapes are clothed in warm colours, the mild climate and crisp air favour relaxing lakeside walks, and fiery sunsets provide breathtaking views.
For these reasons, October and November are the ideal months to admire the foliage: a natural phenomenon whereby the leaves of trees change colour from green to various shades of yellow and red. If you too are a nature lover, you won't want to miss this unique experience!
Below you will find some places on and around Lake Garda that we think deserve to be seen and photographed during this time of year. We are sure that we will please everyone's taste among paths, woods, parks and walks. Ready? Let's get started!
ROCCA OF GARDA
The Rocca di Garda is a relief situated between Garda and Bardolino, overlooking the waters of the lake.
The route on the Rocca winds through woods, vineyards, farmhouses and fascinating archaeological, medieval and military remains: this is why we recommend you go also during the autumn period! he trekking on the Rocca di Garda is a 6 km route that guarantees several panoramic points with a magnificent view of Lake Garda.
GARDA ISLAND
San Felice del Benaco is home to Isola del Garda, the largest of the islands on Lake Garda. The island is privately owned and houses a historic 19th-century neo-Gothic-Venetian villa surrounded by a garden and park dating back to 1880. Its park is a true earthly oasis characterised by terraces, Italian and English gardens and vegetation rich in local and exotic plants and unique flowers. Here, pines, cypresses, acacias, lemons, magnolias and agaves accompany you on your discovery of enchanting natural views.
MONTE BALDO
Behind Lake Garda, from a height of over 2,200 m, Monte Baldo rises with its unmistakable profile. A true paradise for hikers and lovers of outdoor activities, easily reached by the Malcesine cable car.
It boasts of very diverse areas, ranging from typically alpine to sub-Mediterranean landscapes. This is a peculiarity that makes it unique both nationally and in Europe!
On the slopes of the western side of Mount Baldo, you can not only admire the foliage phenomenon, but also enjoy a magnificent panorama of the lake.
SAN ZENO DI MONTAGNA
San Zeno di Montagna is a district located between Lake Garda and Monte Baldo. It is to all intents and purposes a natural panoramic terrace directly overlooking the lake, which is why it offers extraordinary fiery sunsets every day. In addition, this village is surrounded by an expanse of woods that in autumn, thanks to the foliage, explode in a blaze of colours.
SIGURTA' GARDEN PARK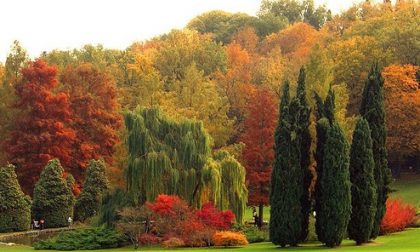 A destination not to be missed is the Parco Giardino Sigurtà: 600,000 m2 of unspoilt nature in the picturesque village of Valeggio sul Mincio, a few kilometres from Lake Garda.
The park deserves to be visited not only in spring when the tulips are in bloom, but also and especially in autumn! During this season, in fact, foliage colours the entire vegetation of Sigurtà.
The absolute protagonists of this natural phenomenon are the more than 500 Japanese maples in the park. Other stops certainly not to be missed are the labyrinth, the great oak, the flowering lakes and the little castle.
These are just some of the most suggestive places where we recommend you admire the foliage phenomenon. Lake Garda and its surroundings, in fact, boast a great territorial variety that deserves to be discovered. Now it's your turn to explore!